Dear Friend,
Thank you for considering a Pinsarella pinsaria as your future. As you read through this package, you will see that Pinsarella has some wonderfully unique opportunities.
You may have looked at other pizzeria concepts; however, you'll quickly notice that Pinsarella is not just another pizza concept – it's one that makes Ancient Roman Pinsa, a fast-growing segment within the pizza industry. Pinsarella has one of the most mouth-watering crusts using the finest ingredients from Italy. Once you try it, you'll see just why this high-quality segment is blowing up. The other major difference is that Pinsarella is not a franchise – it's a licensed operation. A licensed concept gives you more freedom and opportunity as opposed to a franchise. With a franchise, the agreements can be up to 20 years, and include licensing, trademarks, ongoing royalties, advertising fund fees, and other weekly or monthly management fees with great control over how you run your system. With
Pinsarella, you'll have an easier entry in the market with a trademark and great product, including our support to get you up and running. The major difference, besides being more cost effective, is that you get to run your business the way you
want it.
Join our family. We are looking for financially stable investors that believe in our product and brand with a true passion to share this with their community. As you learn more about what sets Pinsarella apart, we hope that you consider Pinsarella as your
partner and your future.
Many thanks, once again, for your consideration. We look forward to hearing from you soon.
Sincerely,
Michele Pagano
Founder & President Pinsarella 
Choose the Right Format for You

1 . Pinseria & Mozzarella factory
2. La Pinseria take away
3. Pinsarella  Corner
4. Foodtruck
"Choose a job you love and you won't work a single day of your life" (Confucius)
2. About Pinsarella 
Pinsarella was one of the first food producer to make pinsa in the United States. The brand name comes from the union of two words: Pinsa & Mozzarella. Pinsarella mission is to bring in the USA the Italian tradition of pizzaiolos and cheesemakers. Learn more about Pinsarella : GREAT PRODUCTS & RECIPES Pinsarella's Pinsa Romana product is a prominent, 100% organic product that commands a higher margin than any pizza. The sheer quality and flexibility of pinsa dough means that you can use it to make pinsa, or simply flatten it for table bread or for a sandwich among other uses. Where pizza requires flour and a lot of salt, Pinsarella's dough uses a wheat-soy-rice flour mix, along with up to 85% more water, less salt and a hands-on touch that creates a lighter, airier crust that is able to melt in your mouth with a less filling feeling by being more digestible than pizza dough. It also has fewer calories, 85% less fat than pizza and is considered vegan friendly. It is simply delicious! Pinsarella has mastered and captured the art of Pinsa Romana (Ancient Roman Pizza) with its own deep roots stemming from Italy – both the ingredients and its founder. Our secret mixture of grains to make the flour is as traditional and wonderful as the end product itself. It is this covert recipe that makes Pinsarella's Pinsa Romana a true masterpiece that is crunchy on the outside, yet extremely versatile and light.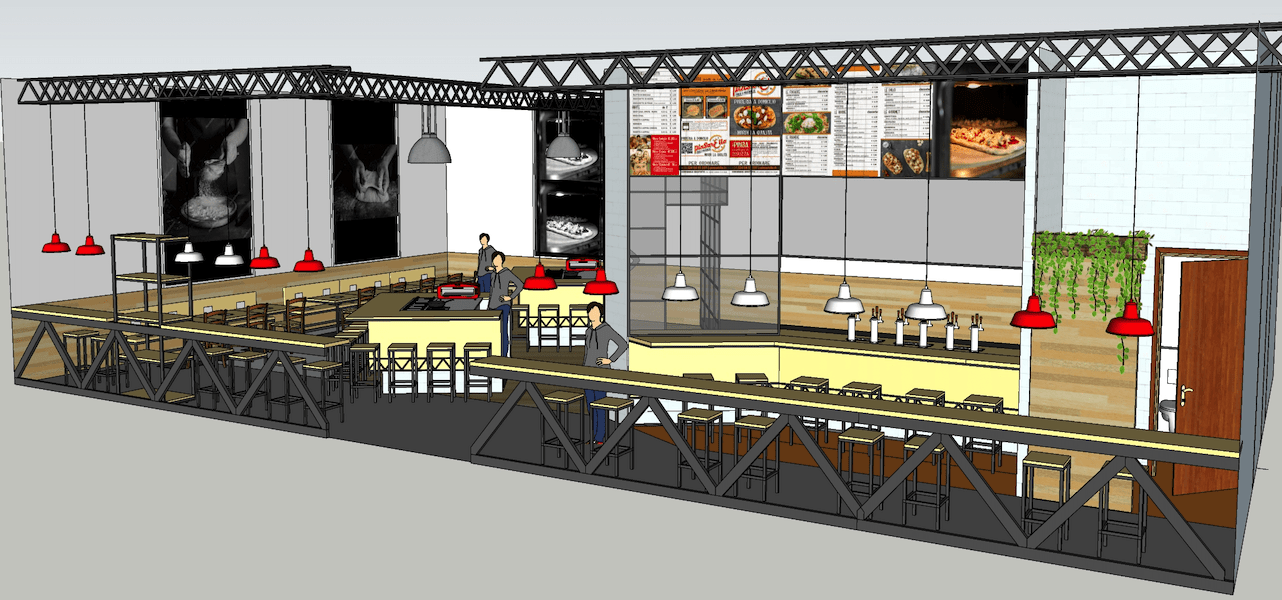 The Difference 
Pizza is a common food item you will find on nearly every corner of a city. From gas stations to grocery stores, from delivery only to kiosks, pizza is one of the most popular foods in America. Estimated to continue to grow by 10% by Statistica, pizza has become one of the fastest concepts to be put out there by entrepreneurs. But Pinsarella is no pizzeria – it's a pinsaria. The up and coming, high-growth concept is on the verge of explosion in the U.S. and other markets globally. With the surge of artisanal products throughout the country, Pinsa Romana has taken on quickly but is still in its infancy. Pinsarella is a licensed concept, unlike a franchise. With a franchise you have a larger upfront investment and ongoing monthly costs such as royalties and advertising fees. With a licensed concept like Pinsarella you only have upfront licensing fees and start-up costs, then a monthly purchase of product for making your Pinsas. This saves you time and employee cost from the dough making process, allowing for the speed of a delicious, high-turnover product to your customer. But the largest difference is that Pinsarella is not going to tell you how to run your store or require any ongoing percentages of your revenue, which is unheard of with franchising! We are here to help you establish your shop with initial training, and then to ensure that unique quality and consistency, we'll deliver your dough to you, while saving you time and money from doing what you do best – interact with the customer. We want your personality, dream and vision to be your success and for us to be the helping hands delivering your consist, high-appetizing crust. Our formula is cheaper and more flexible than the classic pizza franchise. The upfront investment is minimal, and we take care of the rest.
Why Choose Pinsarella?
 There are so many unique restaurant concepts around. Whether a franchise or licensed operation, you have choices. Although we love franchising, it comes with a great degree of control, added expenses – both upfront and monthly – and include a percentage of each dollar you make either weekly or monthly. Additionally, you are in for a 10 – 20 year relationship whether you like their management and marketing or not. Let's change that with Pinsarella. Let's give you the control you want, and the flexibility you truly deserve. Pinsarella is a very unique concept that is unlike other concepts. It's not the same 'ole pizza franchise that pops in and competes against other pizza coupons that flood every household – Nope. Pinsarella is a true opportunity stemming from a NEW and fast-growing segment of "Italian pizza" – The Pinsa. You will have the opportunity to open a pinsaria on the ground floor as the surge of pinsa lovers grows rapidly throughout the United States. With pizza growing at 10% annually, pinsa is expected to grow at any even higher rate as the newly introduced food is gaining popularity in major concepts and kitchens across North America. Most licensed pizza operations do not completely support you from the start, and are just cookie-cutter pizza pop-ups. Join the Pinsarella family and receive upfront support, guidance on how to truly deliver a delicious and profitable product, and a belonging to a family that is ultimately here to provide you a premium, one-of-a-kind product that is high, growing demand.
The Pinsarella Advantage
No restaurant experience necessary
Absentee ownership if desired
Small to medium concepts available
Multi-unit and area development available
Hands-on training and opening support
Easy-to-make, ready-to-bake product with high output
Healthier, low fat, low gluten and vegan-friendly product
Lower equipment needs, lower investment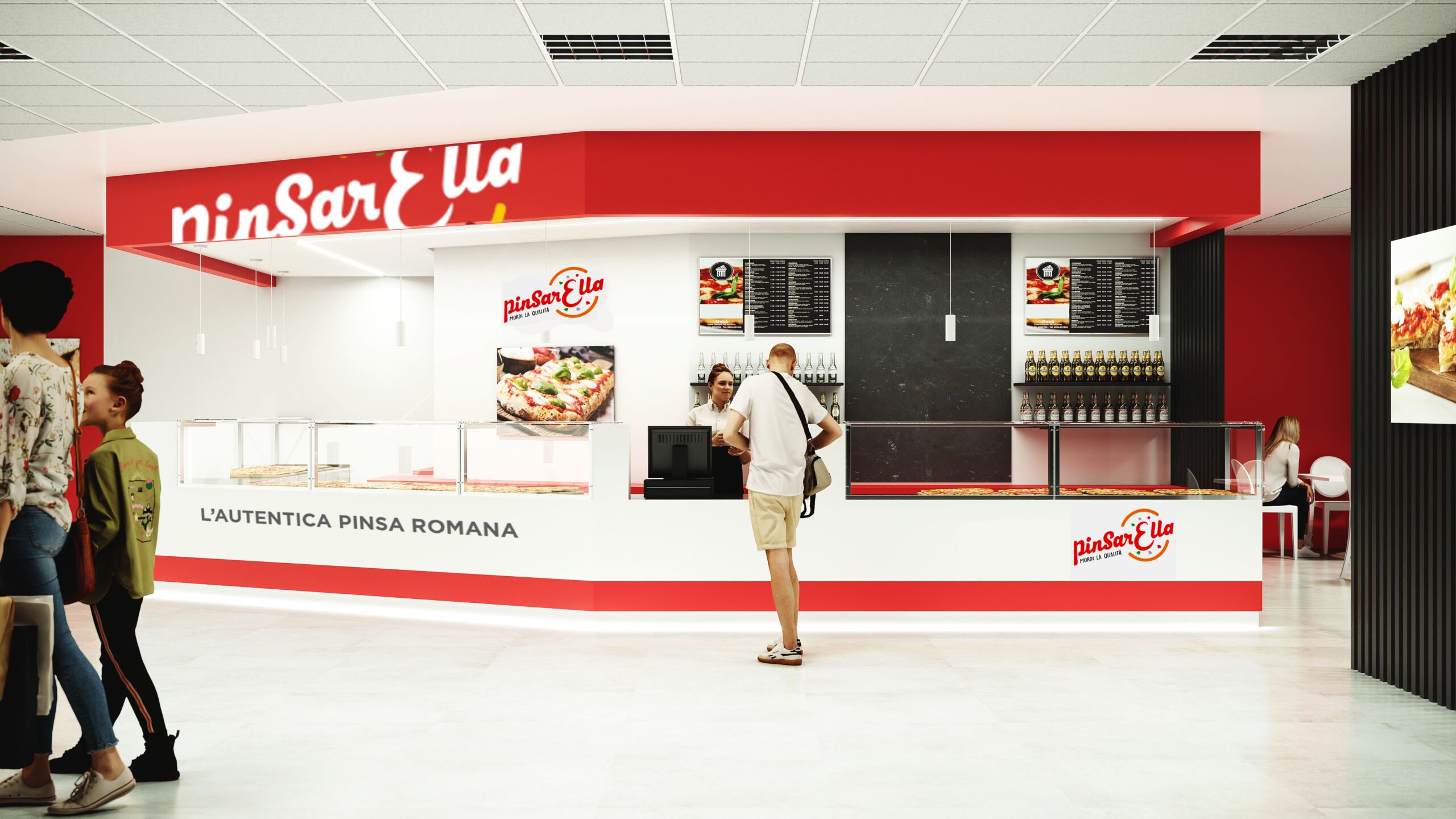 Our Concept
Pinsarella Italia An environment in which the customer is completely enveloped by the charm of the production of the ancient Roman pizza and mozzarella & Co. A familiar, clean, industrial environment, where you can feel enveloped by the unique Italian atmosphere, where you can enjoy a simple menu built around our main products, the Pinsa Romana and the Mozzarella paired with original and fresh condiments. A menu where, in addition to the classic condiments, you can find special gourmet combinations and our pizza desserts. Visible to the customers are the mozzarella and pizza production laboratory and at the same time a display counters; with the finished products Pinsa Romana, & Mozzarella co ready to be enjoyed, as well as refrigerated display containing pre-made pizza crust that customers can take and baked at home in just 3 minutes. From this mini cheese dairy or workbench cheese we made hand-spinning mozzarella, burrata & more in front of customers.
Pinsarella Take-Away
In this type of shop, there isn't a laboratory for production. Pre-baked pinsa crusts are supplied daily by the closest Pinsarella laboratory or Pinsaria. Here we operate just the final cooking of the pinsa which can be served to our customers in just a few minutes. In this concept there will be a counter to display the pinsa already baked and the pre-made pinsa crust that the costumers can build as they like. Prepping and baking will be made in front of the customers. In these shops the customers will be able also to buy our mozzarella and our premade pinsa crusts with or without toppings, that can be prepared as they wish directly at home. Pinsarella shop is ideal for areas with a high population density, city center, pedestrian areas characterized by heavy foot traffic, shopping malls or business areas with offices as we provide a quick high-quality lunch.
3. Pinsarella Corner
This Pinsarella can fit in a small Kiosk format (i.e. 100 sf) within structures such as shopping centers, supermarkets, malls, restaurants. A corner that needs just a fridge with condiments and a small oven for the preparation of Pinsa Romana. Oven that can be "ventless" without a need of a hood. Our project allows you to achieve great production efficiency without the need to find specialized opera- tors as the workstation is designed with advanced technologies that simplify the preparation operations.
Low Investment
The upfront licensing fee for a Pinsarella ranges from $10,000 -$25,000, and includes the use of the trademark, our guidance in getting started and launching the business, and a belonging to our family. The initial investment to develop a Pinsarella will differ depending upon the concept and size of the store.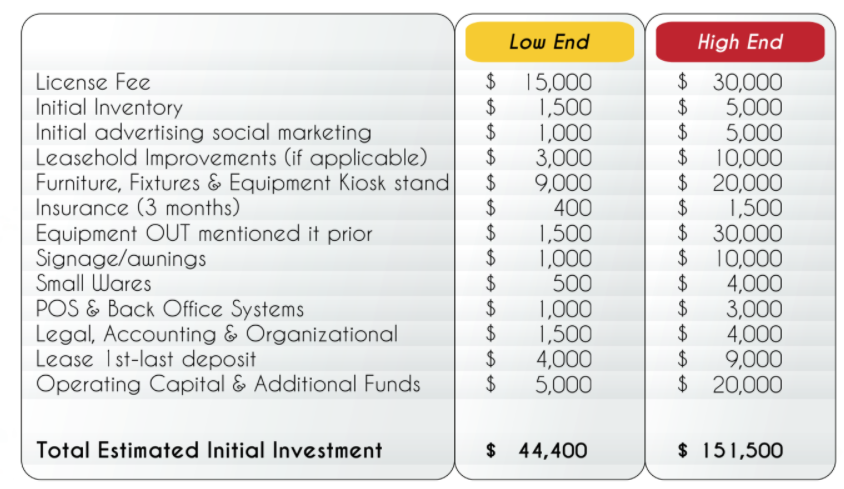 * Leasehold improvements if you needs changes to retail local added pass thru walk up window, counter top, or idea etc.
* Operating capital is contingency cash flow reserve till full operational profit due to mainly employee expenses,and inventory.
* Lease rent deposit for small retail biz store front; local as small as 500 S F
* Kiosk stand is one of our brands as noted by the graphics, shipping and handling and assembly to your area vary, and at your expense, as well as your personal improvements. See link on kiosk options
Ideal Candidate
Pinsarella believes more in its community than the store itself. That's why we are looking for partners who realize how important their community is, and believe that they can make a difference with a healthier option on the table.
Our ideal candidate:
Has an ability to lead and develop the concept into a first-class operation
Passionate about the product and believe in the Pinsarella brand
Alignment of our core values
Motivated to be successful
Commitment to community
Overall ability to secure necessary financing to open a Pinsarella's
Credit worthiness, debt to income, secondary sources of income, etc.
FAQ
Q. What is the license fee?
A. $15,000 – 30,000 depending upon size of concept.
Q. Is there a monthly royalty fee?
A. A commitment of $500 per month is required.
Q. Is there any help in marketing or advertising?
A. We do have great partners that can assist with marketing, digital, and advertising.
Q. Do you provide training?
A. There will be upfront training on making the products, including training on running the store.
Q. Do you provide financing?
A. No, but we have sources that we can introduce you to.
Q. Can I purchase more than 1 concept?
A. Yes, you sure can! With a discounted licensing fee on additional concepts (see last question)
Q. Do I have to purchase the dough and ingredients from Pinsarella?
A. Yes. Our secret formula, ingredients, and process for making one of the best pinsas on earth is required as part of the licensing agreement.
Q. Do you offer multi-unit and area development opportunities?
A. Absolutely!
Next Steps
01 Contact us to request more information
02 Fill in our application form, sign our confidentiality
agreement
03 Schedule an introductory call or visit in our store
04 Meet with our founder to discuss your territory
05 Gain an agreement to move forward
06 Complete your due diligence
07Sign our licensing agreement and pay the initial licensing fee
08 Start your training and development of your concept
09 Launch your own Pinsarella concept
10 Welcome to the Pinsarella Family!
Request Your Meet & Greet for More Information on This Opportunity.
1281 North Escondido Blvd, Escondido, 92026, California